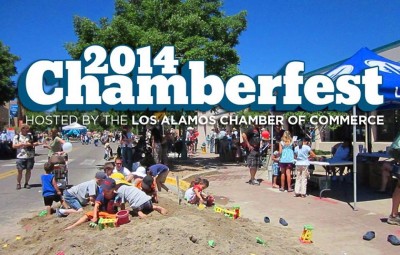 You are INVITED to ChamberFest Los Alamos style! Come downtown and experience the beauty of northern New Mexico and this progressive, innovative community! Please visit LeAnne at booth number 14!
ChamberFest 2014
On Saturday, June 14th, the community is invited to come downtown to enjoy Chamberfest 2014! Businesses utilize this opportunity to provide giveaways and games for attendees. The weekend's event often draws over 2,000 consumers to the downtown area.
ChamberFest is an annual event that showcases chamber members. This year, the festival is located in the downtown on The Park at Central Park Square.  Businesses will display their products and services to the public. There is also a very popular car show, bouncy houses, a bubble pit and the LANB giant sand pile.
The festival lasts from 10AM – 2PM on Saturday, June 14th.
The festival is designed to:
provide families with fun and entertainment that teaches them more about Chamber Members (each family receives a map of downtown and walks from merchant-to-merchant)
bring people into the downtown for fun. The event acquaints potential customers with parts of the downtown area and stores they might not normally visit.
contribute to the overall feeling of well-being in the community.
Blog landing page for all.
CALL out to Upcoming Workshops. ( I suppose I could this! its on every page)/ Or slider!